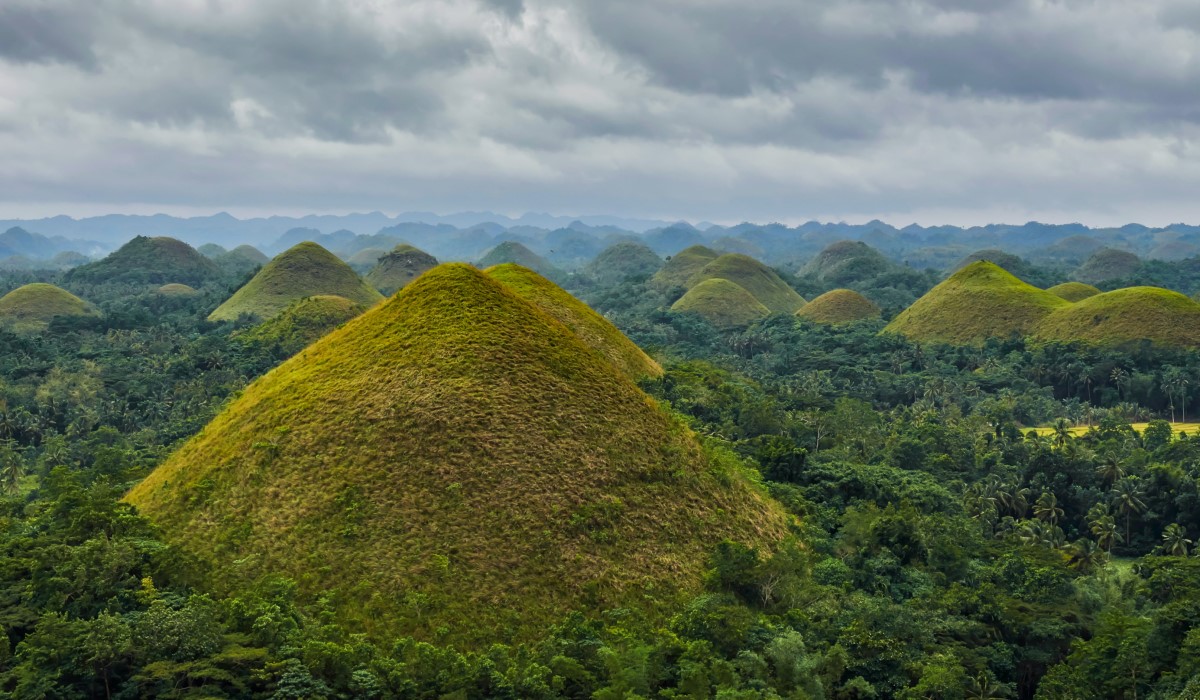 Layover in Bohol: Nature, Adventure, Food!
Francisca is a flight attendant with Philippine Airlines
| | | |
| --- | --- | --- |
| Country | Airport | Place |
| Philippines | CEB/TAG | Bohol |
The Philippine Archipelago comprises more than 7,500 islands, of which only 2,000 are inhabited. My most favorite island is Bohol. It is not a destination with our airline, but you can reach Bohol quite easily from Cebu. Bohol is an escape into unexploited natural beauty. I am simply drawn towards its soothing natural energy. Surrounded by the lush green forests and sprawled with infinite natural hidden gems, Bohol is thoroughly enchanting.
How to get there
There is no direct connection from Cebu to Bohol. You can take the ferry from Cebu to Bohol, which is the fastest way to get there (about 1 hour and a half). Once you arrive in Bohol, you need to grab a taxi. Or you can hire a car and drive yourself from Cebu to Bohol via the Tubigon Transport Terminal. You can reach Bohol in 3 and a half hours. But it's absolutely worth it, and with the car you have more freedom!
Hills, Jungles, Waterfalls, Cruises
Once you arrive in Bohol, you feel yourself surrounded by pure nature. Bohol is an open jungle with amazing landscapes and hidden waterfalls. Every time I visit the Island, I know new adventures await. My top experiences of this endless forested land are:
Chocolate Hills

Chocolate hills are a top priority to get enchanted by Bohol's natural beauty. These 1000 dome-shaped mounds offer a majestic sight to behold. They have every right to be called the chocolate hills. Their conical shape resembles Hershey's Kisses, and in the dry season, they turn chocolaty brown.

However, you must revisit the hills in the rainy season when they change color to lush green. Their mesmerizing beauty can breathe life into you. I always get invigorated by the fresh air and love the cool breeze here. My favorite layover activity is renting a motorbike taxi and getting lost in these hills.
Loboc River Cruise

If Chocolate Hills are mesmerizing, the ride to the hills is even more enticing. I have taken the official and the unofficial cruises through this heavenly river, and both have their own charms

The most attractive part of the official tour is the large floating houseboat with a hay roof. I love the serenity the entire region is abundant with.
While you can click pictures of the natural expanse, the buffet lunch is delicious and tastes so fresh. The singing and dancing throughout the cruise bring in the festive flavor to the entire tour. It is a never-to-be-missed experience.
The crew and I have even rented small wooden boats from local fishermen and paddled our way to the hills. Two people in each boat. It's an enthralling experience of getting up and close with nature. Another adventurous way to cruise through the river is paddle-boarding through it.
Tigbao Hanging Bridge

What's a river without a bridge? As you float in Loboc, you will pass under an extraordinary bamboo bridge hanging 83 feet above the river. It is a delight to capture, a perfect selfie spot. Stop here to take a walk across the bridge.
It is scary at first because the bridge moves under your every step, but the thrill is what makes it an adventure. Looking at the river down from the bridge, you behold a canvas-worthy beauty, unparalleled, unmatched, unfathomable.
For safety, this purely bamboo-woven bridge is suspended by solid cables that won't let you fall.
Mahogany forest

I love Bohol so much because people coexist with nature here. It is an eye-opener for a city girl like me. Every time I have a layover in Bohol, it reminds me of what city life is missing out on
This man-made Mahogany Forest is admirable. Just a morning bike ride along the meandering forest roads fills your lungs with fresh air.
In cities, we just inhale and exhale. In Bohol, we truly breathe. Each gush of breath energizes all the senses and makes you feel alive again.
Dimiao Twin Waterfalls

Bohol is full of hidden waterfalls, but my favorite is the 'Twin' falls. To tell you a secret, there are actually 3 falls here.
A short but steep rocky downhill trail takes you to the falls. Hidden among the lush forestation, these stunning falls are breathtakingly beautiful!
Walk along the wooden jetty-like bridge leading to the fall pool. The turquoise blue water is irresistible; it simply lured us. We splashed there for what seemed like eternity.
Local Delicacies, Organic Treats, Fresh Produce
Bohol is not only an exotic destination, it also offers delectable delights. With such a fantastic blend of topography, Bohol has plentiful exotic flavors.
Mosia Cupcakes & Cookie Shop

Bohol offers temptation in all possible forms, be it its natural expanse or its famous cupcakes. Tagbilaran is my favorite place for gnawing into those fluffy little desserts.
I have tried almost all the flavors they have, and the Strawberry cupcake stole my heart away. My mouth waters every time I think of it.
As I have found my favorite cupcake, I am going to cheesecake tasting on my next layover in Bohol. I have had my eye on the Tuxedo Cheesecake for very long and this time, I will definitely grab a slice.
Cupcakes and coffee, the surreal combination that should never be broken. Bohol can't let you commit that sin. You will get the finest quality locally grown coffee beans at Bo's to go with your cupcake.
I always grab the freshest cup of Café Americano from Bo's before I head to Mosia for my favorite cupcake.
Mosia's beachfront views, Bo's organic beans, and the delicious cupcake – I don't need to describe the feeling anymore. If you're a food lover like me, you'll understand.
Bohol Bee Farm & Buzz Ice Cream
Bohol Bee Farm is nothing like the name suggests. It's one of the best resorts, offering delicious local delicacies that always leave me wanting some more. The homemade and organic ingredients add so much flavor to even the simplest dishes that I simply can't stop myself.
I always try at least one new dish on every layover in Bohol, and every time I am left amazed. The hand-picked edible flowers, the fresh garden salads, the honey-glazed roasted chicken, and the pasta with home-grown herbs all share the top spot on my unforgettable favorites list.
The ambiance steals the show as much as the food, with open-air dining overlooking the vast Bohol Sea. But that's not it! Where there's a bee farm, there ought to be some buzzing. The Buzz Ice Cream café right outside in the perfect dessert spot offers unimaginable yet delicious flavors of ice cream.
Mubalik Ko Bohol – Your Charm will Draw Me Back to You
Every layover in Cebu, I try to make it to Bohol. Bohol has been adventurous, exploratory, & blissful. However, there is still so much left to explore that I feel I have only had a tiny morsel of it.
On our last layover, Gerarda's Panglao opened its doors. So, The crew has already planned to dine there, having heard so much about its traditional Filipino flavors.
I even want to visit the Butterfly Gardens because I've been told that these brilliantly hued creatures are a treat to watch.
---
Share this article with
your friends and colleagues
: