The CREWLOUNGE Suite is a product developed by MCC bvba.
MCC is headquartered in Belgium, with offices in Europe and Asia. The company was created in the 90's by Captain Pat BOONE.  MCC is privately financed and consistently profitable.
The CREWLOUNGE project (formerly mccPILOTLOG and crewCONNECT) was launched ten years ago and is now being used by tens of thousands of crew members worldwide !
A young and dynamic team of 25 developers and support agents across Europe and Asia, work full-time on the apps that support Your Life in the Sky !
Philippines - Cebu Office
Desktop Development
Helpdesk Support
Chris PONCE
Team Lead - Cebu
...
Chris graduated BSIT at the University of Cebu Lapu-Lapu and Mandaue. He is IBM Certified Database associate.
Chris loves to travel and going for new adventures around the world… !
Cristopher ESTORGIO
Developer Windows & Mac
...
Cris is an experienced software developer. He joined the team a long time ago.
Besides coding, he is also a musician and sports enthusiast.
Shernalee UY
Developer Windows & Mac
...
Shernalee holds a Bachelor degree in Science / Computer and a Major in Software Engineering.
She holds qualifications on Leadership, Time Management, and Stress Management. Exactly what you need to work with MCC…
Ryan ALTAMERA
Developer Windows & Mac
...
Ryan graduated BSCS at the Cebu Institute of Technology University. He is a senior .Net Developer.
He enjoys travelling, listening to music and playing football.
Jean BELTRAN
Customer Support
...
Jean is an IT graduate at Cebu Institute of Technology. A digital scrapbook and art lover. "The most wasted day is that in which we have not laughed", that's her motto.
Jeffray TIPONTIPON
Helpdesk Agent Customer Support
...
Young, dynamic, inspiring… Jeffray is a real techy and an experienced Customer Service agent. He graduated with a Bachelor degree in information technology.
Precila CABABAT
Helpdesk Agent Customer Support
...
Precila Graduated at the University Of Cebu-Main with a bachelor degree of BSIT. She is a cat person. Precila is addicted to books and movies, a real kdrama fan. She loves cats and reading books.
Rachel MANCAO
Helpdesk Agent Customer Support
...
Rachel graduated BSIT from the University of Cebu. She loves playing musical instruments, as well as listening to 'kpop'. Rachel masters several foreign languages, such as Korean and basics of Japanese.
Aprille PAREJA
Customer Support
...
Aprille holds a Bachelor in Airline Management. She is an expert in e-Commerce, SEO and Social Media.
Aprille loves reading books and watching movies. But by far, she loves being outdoor – oops, that includes the Office ?
John Ray COPIO
Customer Support
...
John graduated BSIT from the University of Cebu – Lapu-Lapu and Mandaue. He enjoys traveling, dancing and listening to K-Pop music. Hopefully, he can travel the world.
Carolyn PLANAS
Customer Support
...
Carolyn is a graduate of Bachelor of Science in Commerce Major in Management Accounting. She's an outgoing person and loves to learn new things. A dog lover, likes reading manga , and she loves surprises!
Precious PAAS
Customer Support
...
Precious holds a graduate of BSIT major in Multimedia and Computer Animation. She worked as web hosting and migration specialist for many years. She loves to share personal reviews about beauty and wellness products, travel and food through her personal blog.
Viet Nam - Hanoi Office
Mobile Apps
Cloud Development
Phuc DO DANG
Team Lead - Hanoi
...
Phuc graduated from Hanoi University. Phuc is  a .Net Developer and an Android developer. He enjoys traveling, listening to music and also a children and cats lover.
Linh NGUYEN HONG
Cloud Developer
...
He is living in Hanoi capital – one of the most beautiful cities in Viet Nam. He had experienced using many programming languages but most prefer is android and javascript. 
"Imagine a day without line code, that is definitely the end of the world !".
Thuan NGUYEN DUC
Cloud Developer
...
Be humorous, sociable, have an inquiring mind and a sense of responsibility.

Like to share, cultivate the experience in programming skills, practice logical skills.

Hobbies: go for a walk, listen to music, play games.
Anh LE NGOC
Cloud Developer
...
She graduated at Danang University of Science and Technology, and now working as a cloud developer. She a book and Rubik lover.
Duoc DANG DUY
Cloud Developer
...
He is a cloud developer. Besides the love for programming, he loves backpacking, mountain climbing and embracing the nature.
Cong NGUYEN CHI
Android Developer
...
He graduated at PTIT(Posts and telecommunications institute of technology). Aside from being an Android developer, he likes listening to music, reading manga, watching anime.
Duc LE TRUNG
iOS Developer
...
He graduated from HaNoi Open University. He like coding because he likes puzzled and makes his life easier. Aside from being an iOS developer, his hobbies are listening to music and playing games.
Thai TA QUANG
Android / iOS Developer
...
Thai graduated from Hanoi University of Business and Technology, and the VTC Academy. He is a junior Android and iOS developer. Thai enjoys movies, listening to music and traveling.
Europe - Offices
Headquarters
Supplies Shop
Dmitry GOYKOLOV
Developer iOS
...
Dmitry lives in the beautiful city of Prague – Czech Republic. He is a senior iOS developer. He enjoys travelling across cities in Europe with his family.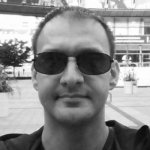 Sven LUTS
Architect Desktop Code
...
Sven studied Electrical Computer Engineering at KHK in Geel, followed by Informatics in Leuven, Belgium.
His slogan in life, but also in coding, is "Keep it Simple !"
Ron WONDAAL
Architect Cloud API
...
Ron lives in The Netherlands. He is captain on Boeing 737 and holds a degree in business engineering.
Besides a love for designing, programming and flying, he is also a snowboard addict.
Jeoffrey DULLAERT
CrewLounge SHOP
...
Jeoffrey is an airline captain on the Boeing 737 and Embraer E190.  Together with his team, he is responsible for running the CrewLounge SHOP.
Victor SHUDRA
Web Developer
...
Victor is an experienced and bright WordPress developer, he loves his job! He takes care of our commercial websites.
Victor lives in the monumental port city Odessa, near the Black Sea in Ukraine.
Pat BOONE
Coffee Manager
...
Pat has been passionate about programming since the first Sinclair ZX81 and Commodore 64.  That makes him the oldest in the team… Pat is business owner of MCC-CREWLOUNGE, flying the 737 & 787, and author of the B737 MRG books.
Special MEL item : No Coffee = NOGO !
Freelancers
Graphics & Video
...
Multiple freelancers reinforce our team in various domains, such as graphic design, video recording, translations, etc.